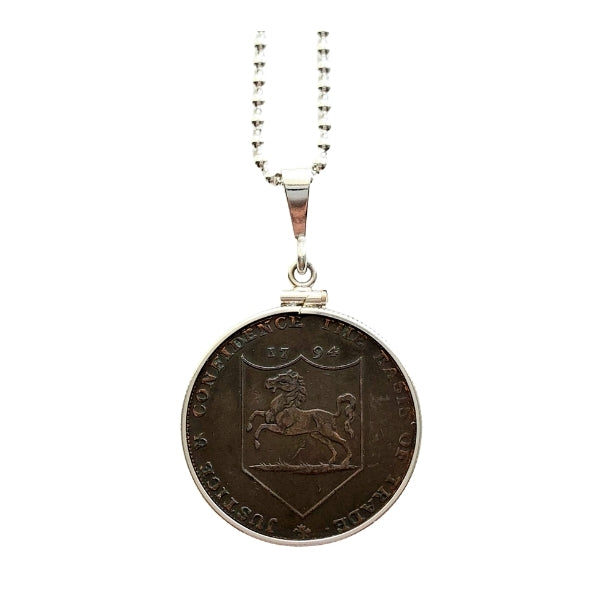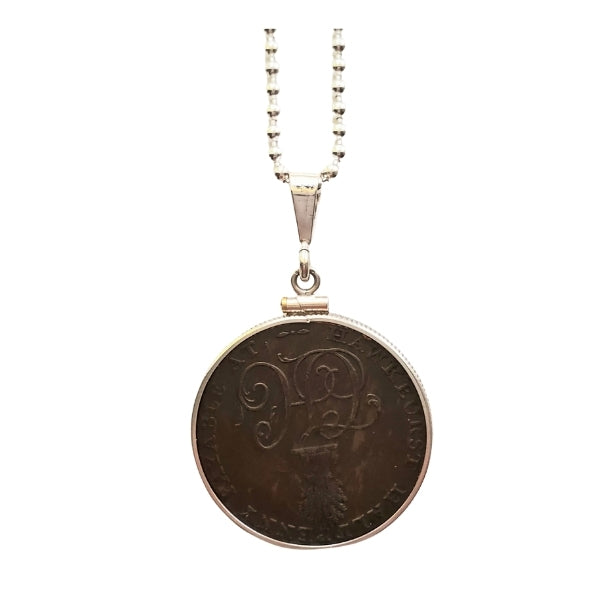 1794 Hawkehurse Halfpenny Coin/Conder (col-019)
Description
1794 English Hawkehurst Halfpenny Conder / Token.   
A charming and joyful horse within a shield.  The front image is of a high headed and high tailed horse with it's forefeet off the ground.  "JUSTICE & CONFIDENCE THE BASIS OF TRADE"  around the outer edge.
The reverse is a sheaf of wheat and a script 'H'.  With "HALFPENNY PAYABLE AT HAWKEHURST" around the outer edge.   

The copper coin is set in a sterling silver coin mount. 
Approx. 1 1/4" diameter.
Chains are available.  See Chains.
Story
A shortage of small coinage in the 1790's inspired local companies, militias, and townships to create their own coins called conder tokens. The tokens were then used to pay workers, militia, and common transactions, keeping the economy running.  The resulting coins have beautiful and varied artwork, as they weren't minted by the Crown (government). 
Sale price

$265.00
Regular price
(/)
Choose options