The age old practice of mounting coins into jewelry. I love making these miniature pieces of art into wearable gems.
Each coin's variation in artwork, patina, and wear make it unique; one of a kind. As quality specimens of ancient coins are challenging to acquire, please let me know which coin speaks to you.
Pegasus first appeared on the coinage of Corinth in the 6th century BC. Pegasus coins with Athena in the Corinthian helmet, tilted back off her face, were struck starting in the 5th century BC and this became the standard Corinthian Stater design through the 4th century BC.
Beautifully toned ancient Greek silver coin of Pegasus. The Pegasus is in full flight with pointed wings.
On the back of the coin is the goddess Athena in a Corinthian helmet.
Corinth 350-338 B.C.
Coin is approximately 20 mm.
Setting will be in a hand fabricated 18kt gold mount.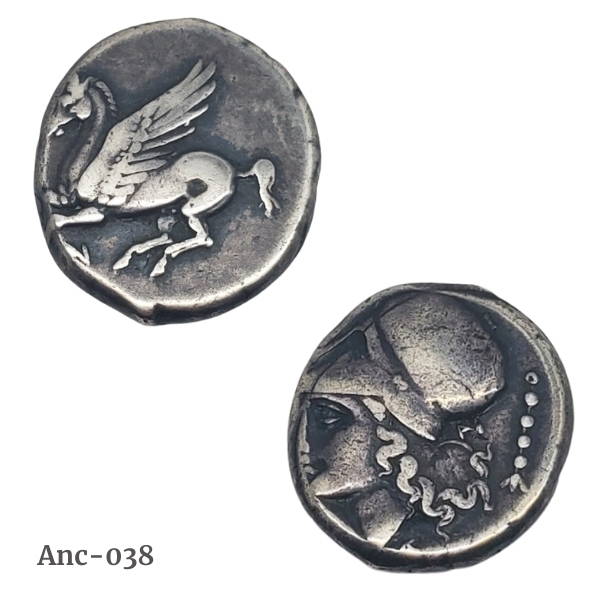 This coin is from Anactorium, a colony of Corinth on the Ionian Sea. Made in the style of Corinthian Pegasus coins.
Akarnania, Anactorium
350-300 B.C.
Coin is approximately 20 mm.
Setting will be in a hand fabricated 18kt gold mount.
The Dioscuri... Castor and Pollux were the twin sons of Leda, one mortal and one immortal. Castor's father was Tyndareus, the King of Sparta. Pollux' father was Zeus, in the form of a swan.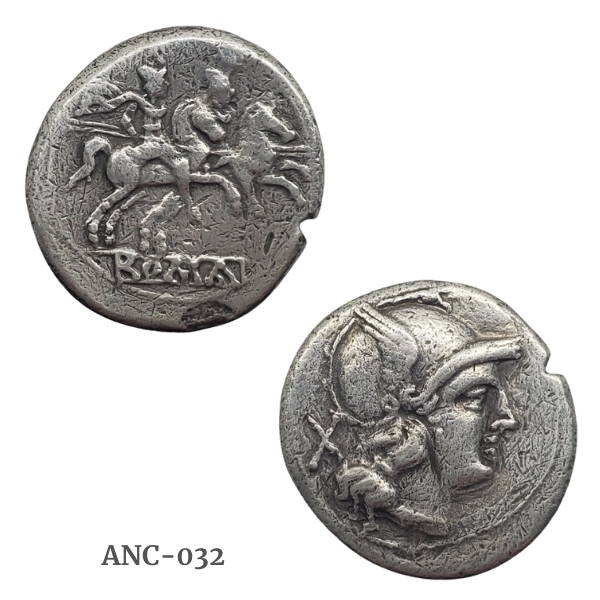 Pollux asked his father, Zeus, to grant Castor half his immortality when Castor was killed. Castor and Pollux then transformed into the constellation Gemini.
Roman Republic Silver Denarius
Rome mint after 211 BC
Dioscuri holding spears with ROMA below
Helmeted head of Roma with 'X' mark of value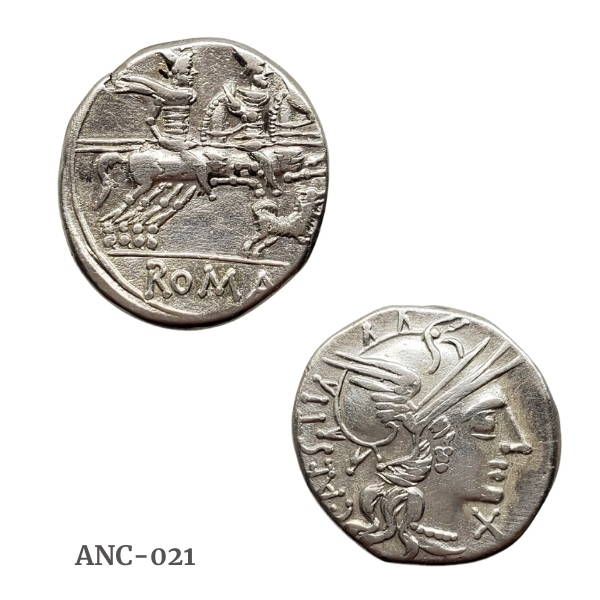 Castor and Pollux are consistently associated with horses in art and literature. And here on coinage.
They were regarded as patrons of athletes and sailors.
Roman Republic Silver Denarius
Rome mint C. Antestius 146 BC
Dioscuri holding spears with a dog at the horses' feet. ROMA below
Helmeted head of Roma with 'X' mark of value